Tornadoes can be extremely powerful and destructive natural phenomena, often appearing in the form of dark, rumbling skies, along with clouds having green or yellow tinge. They are typically formed due to atmospheric conditions such as warm, moist air colliding with cool, dry air, and can vary in size, shape, and intensity. While tornados may occur anywhere, they are most common in the central United States.
Reports from the National Weather Service show that tornadoes hit more than 1,000 homes in a year, often during the peak seasons of March through May.
There are five main categories of tornadoes, which can cause varying degrees of damage, from chimney cracks and broken windows to completely demolished homes. To make matters worse, some property insurance companies deny, reject, or underpay tornado insurance claims when homeowners desperately need the funds to pay for repairs or to replace personal assets.
When a tornado hits your home and pocket, Wallace Law can help you maximize your property insurance benefits, properly file a claim, and dispute any unfair claims practices preventing you from getting a payout.
Does Homeowners Insurance Cover Tornado Damage?
Most standard homeowners insurance policies cover natural disasters like tornadoes and windstorms that may cause structural damage to your home or personal belongings. If you are a homeowner who has paid deductibles on your homeowners insurance, you may want to check out if your policy contains any limitations and exclusions regarding tornado damage. The covered perils outlined in your homeowners policy will indicate whether your policy covers tornado damage. For instance, some policies have wind exclusions that reduce coverage for tornado-related wind damage or eliminate tornado insurance coverage. If you live in tornado-prone areas like Tornado Alley or the Southeastern part of the United States, it is best to purchase a separate wind and hail policy.
In 2021, tornados resulted in nearly 229 million dollars worth of damage across the United States. This shows how important it is to ensure that your property insurance policy works for you rather than against you, given the financial impact these storms can have on your home and life. A tornado damage insurance attorney can help you understand your policy coverage and fight to secure you a fair outcome in case of denial of your tornado insurance claim.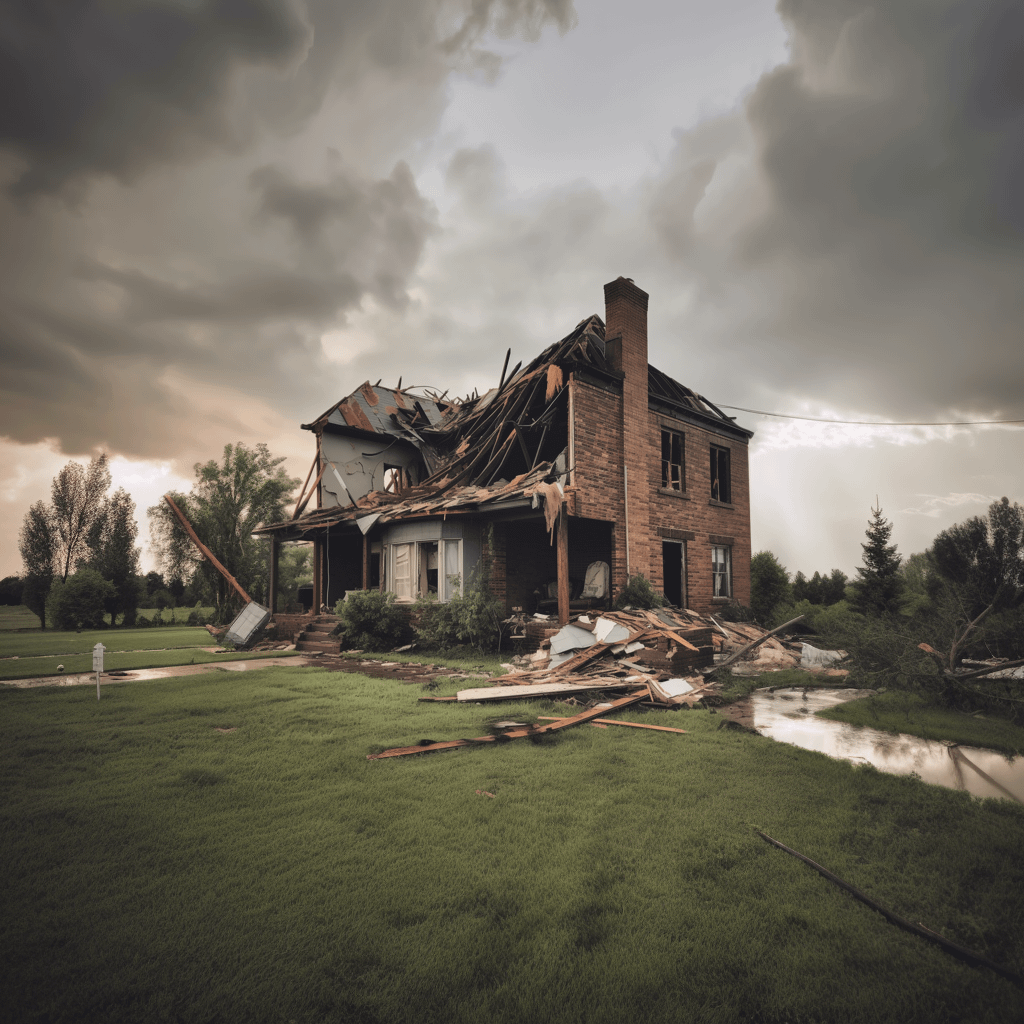 Does Renter's Insurance Cover Tornado Damage?
Tornadoes can happen with little warning signs and cause damage to your rental property. However, when it comes to a rental property, the landlords and tenants involved are impacted differently.
In the Midwest and many other states, landlords are legally on the hook for any exterior damage, while tenants are responsible for their assets and items, such as clothes, electronics, furniture, and more. Tenants are typically covered under renter's insurance which may help pay for repairs or replacement of personal belongings after a tornado, hail, lightning, or windstorm.
Generally, there are two options for reimbursement through a renter's insurance policy: (i) replacement cost coverage, or (ii) actual cash value coverage. Replacement cost coverage reimburses a homeowner for the same amount that the item is worth at the time of reimbursement, whereas actual cash value coverage covers the depreciated value of an item before its damage. If you are unsure which option you have, check your insurance policy and related documents.
In addition, some renter's insurance policies offer additional living expense (ALE) coverage either as part of a plan or at an additional cost. This helps manage bills for temporary relocation, debris removal, emergency removal of the property, and temporary repairs after a loss or power interruption. Given that living arrangements, food expenses, and other temporary needs are often an afterthought in emergencies, ALEs provide renters with extra security.
If your renter's insurance benefits have been rejected, delayed, or denied for unknown reasons, it is wise to consider hiring an insurance dispute attorney before your bills pile up further.
Filing a Tornado Insurance Claim
After a serious storm, it is important to take certain steps. The first is to ensure you and your family are safe. Tornados can cause severe destruction such as shattered glass, scattered debris, broken power lines, and dangerous and protruding objects, so you should avoid re-entering the home or making repairs unless you are sure it is completely safe to do so.
For significant losses, you should file a tornado insurance claim to repair your property and restore it to its former condition. Here are some of the things to consider while filing a tornado insurance claim:
Document damages and losses with tangible evidence like photos, videos, and other written documentation.
Notify your insurance company of the event as soon as possible to provide them with an overview of the damages.
Coordinate with your insurance adjusters to understand the claims submission process as well as their specific protocols.
Stick to your insurer's time frames for filing claims to avoid payout delays or issues.
Maintain a record of all communications with your insurance company
If you feel that your insurance company is stalling payments, avoiding communication, or refusing to share updates or information regarding your tornado damage insurance claim, it is best to contact a seasoned insurance dispute attorney. At Wallace Law, our insurance dispute attorneys can help identify unethical insurance practices and ensure your insurers are held responsible for acting in bad faith.
Common Reasons for Tornado Insurance Claim Denials
What happens when your tornado insurance policy entails coverage for your losses, but your insurance company still denies your valid claim? Chances are there has been a misunderstanding, mistake, or oversight regarding your policy coverage, exclusions, or gaps in coverage. According to MoneyGeek, 93 percent of homeowners in the U.S. have homeowner's insurance, yet claim denials happen every day. Here are some of the common reasons why insurers may deny tornado damage insurance claims:
Policyholders' failure to maintain adequate coverage: An insurance company can deny coverage if you have failed to pay your premiums in full or part. Failure to maintain adequate coverage is a breach of contract, which means the insurer has legal grounds to deny coverage in most cases.
Exclusions and limitations: Every insurance policy has exclusions and limitations, so policyholders know what they are financially responsible for. These exclusions also legally protect the insurance company from overpaying for damages or paying for unrelated damages that are not covered in the policy.
Delays in reporting damages: Insurance companies cannot thoroughly investigate and process a claim if policyholders fail to report damages on time.
Lack of documentation or insufficient evidence of damages: A policyholder must provide proper documentation like photos and videos so their insurance company can authenticate the claim and rule out fraud or "secondary" events that might have caused the damages.
Suspicion of fraud: Insurance companies can deny a claim or pursue legal action if they have enough evidence of fraud from a policyholder.
While there are valid reasons for insurance companies to deny coverage, remember that insurance is ultimately a business for profit. In many cases, insurance companies engage in unethical insurance practices and offer a lesser payout or revoke an insurance claim on purpose to make money. Since it is not always easy to spot any foul play, you should contact an experienced insurance dispute attorney to help you identify unethical practices and fight for your rights.
How to Handle Tornado Insurance Claim Disputes
Tornado insurance claim disputes can put a wrench in moving your home repairs forward after a bad storm. Depending on the damage, homeowners might have to make minor fixes or completely rebuild their homes from the ground up.
Rebuilding a home after a tornado can cost anywhere from $20,000 to $200,000, according to StormAdvisor. With such high out-of-pocket costs, the last thing you want to hear is that your homeowners insurance claim has been denied. Here are a few ways to handle a preliminary tornado insurance claim dispute:
Review your policy for exclusions or limitations, including combing through the fine print to verify if there are any discrepancies.
Gather evidence and documentation, such as copies of communication with your insurer, policy coverage details, and visual proof of the damages.
Hire a tornado insurance claim dispute lawyer, especially if your insurer is dragging out the process, providing insufficient information, or failing to cooperate in other ways.
File a complaint with your state's appropriate governing body, such as the Wisconsin Office of the Commissioner of Insurance so they may properly investigate your insurance company for poor claims practices.
Tips for Maximizing Tornado Insurance Claim Payouts
When a disaster strikes, you want to get the payout you paid for. To arrive at the best outcome and claims settlement, you must have a reasonable understanding of your homeowner's insurance policy and use careful strategies throughout the claims process. It is important to have patience and know when to lean on outside expertise if you cannot reach a mutual resolution with your insurance company.
Here are some tips for maximizing a potential payout:
Understand your policy coverage, including any exclusions or limitations regarding coverage and reimbursement, and deductible.
Document damages and losses thoroughly in line with your insurance company's protocol. This might include photos and videos of the damage, inspector reports, contractor estimates, or other written documentation.
Obtain estimates from reputable contractors that do their due diligence in the quoting and reporting process. This information will be a valuable part of the documentation phase.
Review and dispute any claim denials or undervaluations with the help of an insurance dispute firm, and take legal action when an insurer pushes the limits on a payout.
When Should I Hire a Lawyer for a Tornado Insurance Claim?
Some large insurance companies engage in bad faith insurance practices, such as offering lowball settlements, stalling the claims process, or denying and even rejecting claims for fraudulent reasons. Unfortunately, many policyholders do not realize this and suffer financial losses.
If you are experiencing unexplained issues, delays, or a failed appeals process, it is time to consider involving an experienced insurance dispute attorney to review your case. You may also hire an attorney before filing an appeal to avoid any unnecessary obstacles. At Wallace Law, our attorneys can help you pursue legal options when insurance companies wrongfully stall or deny a payout.
Speak to an Experienced Wisconsin Insurance Claim Dispute Lawyer
Tornadoes are devastating and costly. Some insurance companies deny or undervalue tornado insurance claim coverage, leading to further distress. Our insurance dispute attorneys at Wallace Law understand that tornado insurance claims may be complex and involve significant damage. We can interpret the contractual terms, negotiate with the insurer, and guide you throughout the claims process to make sure you are not exploited by your insurance company.
Hiring an experienced insurance dispute law firm can give you the manpower to fight against large insurance companies and increase your chances of winning a fair claims settlement. If you are dealing with injuries or personal challenges after a tornado damage, the last thing you need is your tornado damage claim to be denied or delayed. We can help you alleviate your stress by dealing with your insurer to fight for fair compensation. Contact us today for a free consultation and case review regarding your tornado insurance claim.